The best pant for men. Versatility is key!

If not, prepare for your life to change forever.
We don't mean to be dramatic, but what if we told you there was 1 pant for every occasion from cruising on your work-from-home day, to elevating your look for a classy wedding rehearsal.
Breathability, stretch factor and light weight nature of the fabrication all contribute to ultimate comfort when rocking this classic style of pants!
"A pair of chino pants is a man's go-to attire for every occasion"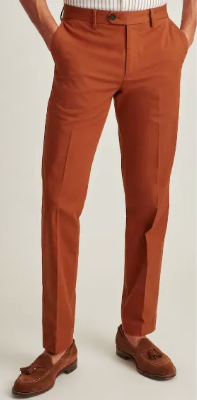 Although chinos come in many shapes and sizes, a modern, slim fit with taper is usually the prefered sillhouette for the modern man. Not too tight, not too loose, this pant should not be worn too slim or too oversized (if targeting a classic, timeless look)
So where do I find this elusive, perfectly versatile pant??
There are numerous brands out there claiming that their chino is the go anywhere, do anything solution to the versatility hunt, but there are only a couple who follow through with their claim!
Be aware of the posers and don't settle for sub quailty, a lack of consitency or availablity and especially don't find yourself being fooled by an elevated price point. A great chino can be found for $70-$130
Written by Kyle Albrecht - lead stylist and founder of Social Garb
Please reach out anytime using button below!